Memoriam Cards
A caring touch in a
time of bereavement
Personalised Memoriam Cards
Any of my Memorial Cards, Book Markers or Thank You Cards can be easily personalised by adding photo's, dates, details of your loved one and verses/prayers from our selection or your own. Once your order is received a design proof copy will be sent via email for your perusal at which point you can make unlimited changes.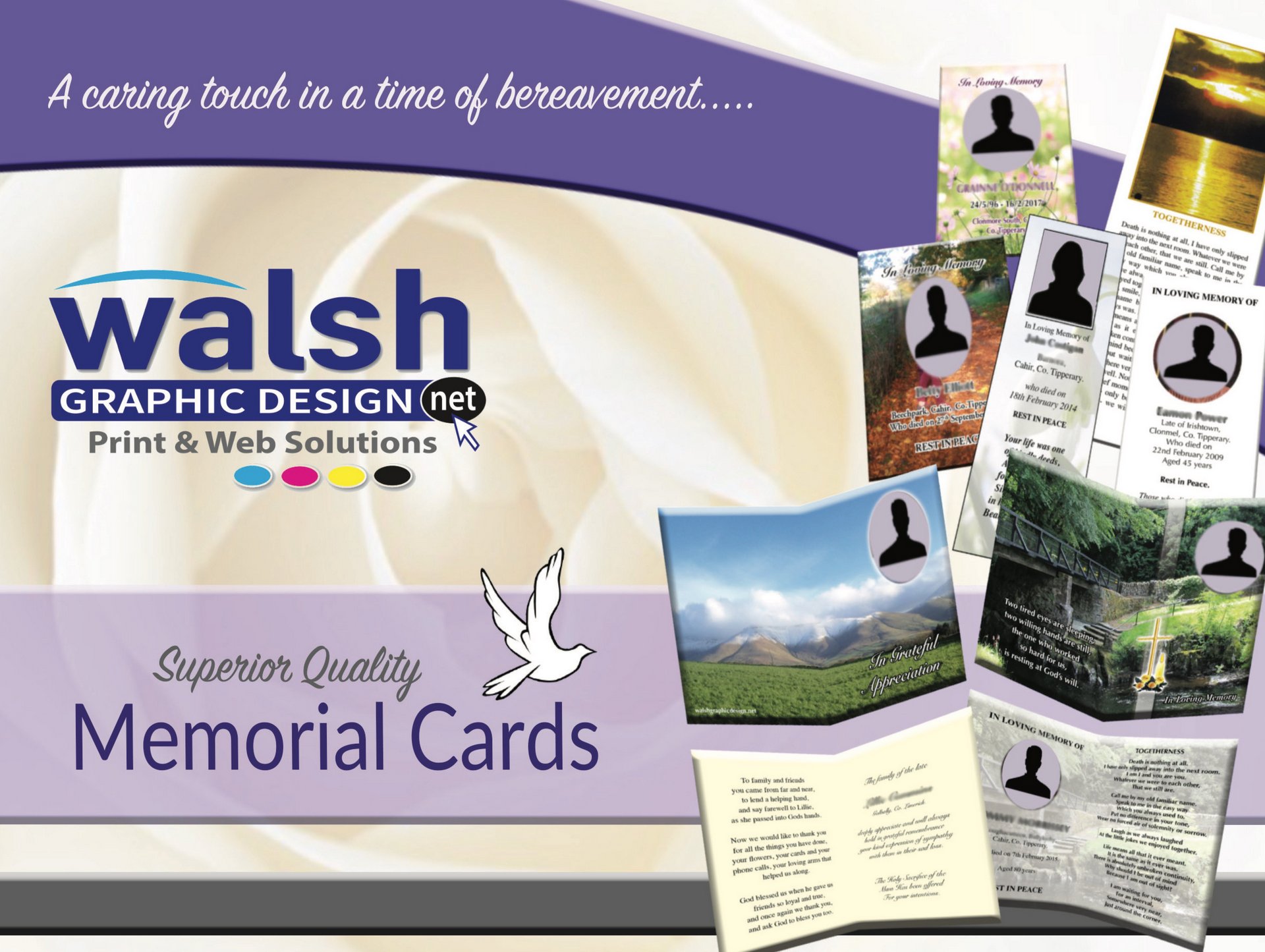 Excellent Quality and Service
Every Time!
Contact Me
Download Brochure

Memorial
Bookmarkers
I design and print these to your specific requirements, we dont use any templates.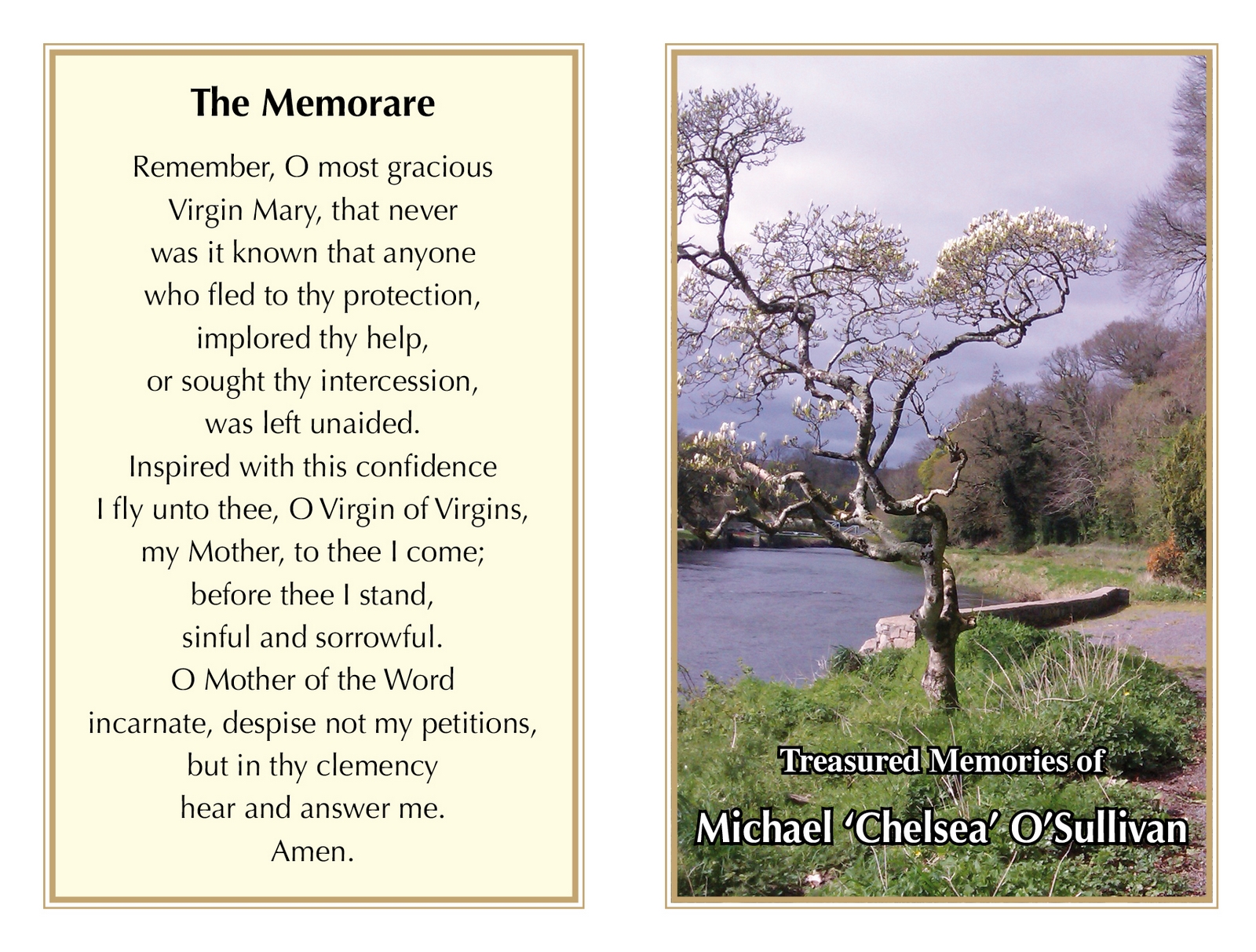 Memorial Cards
Use any images or verses that you would like to best represent your loved one.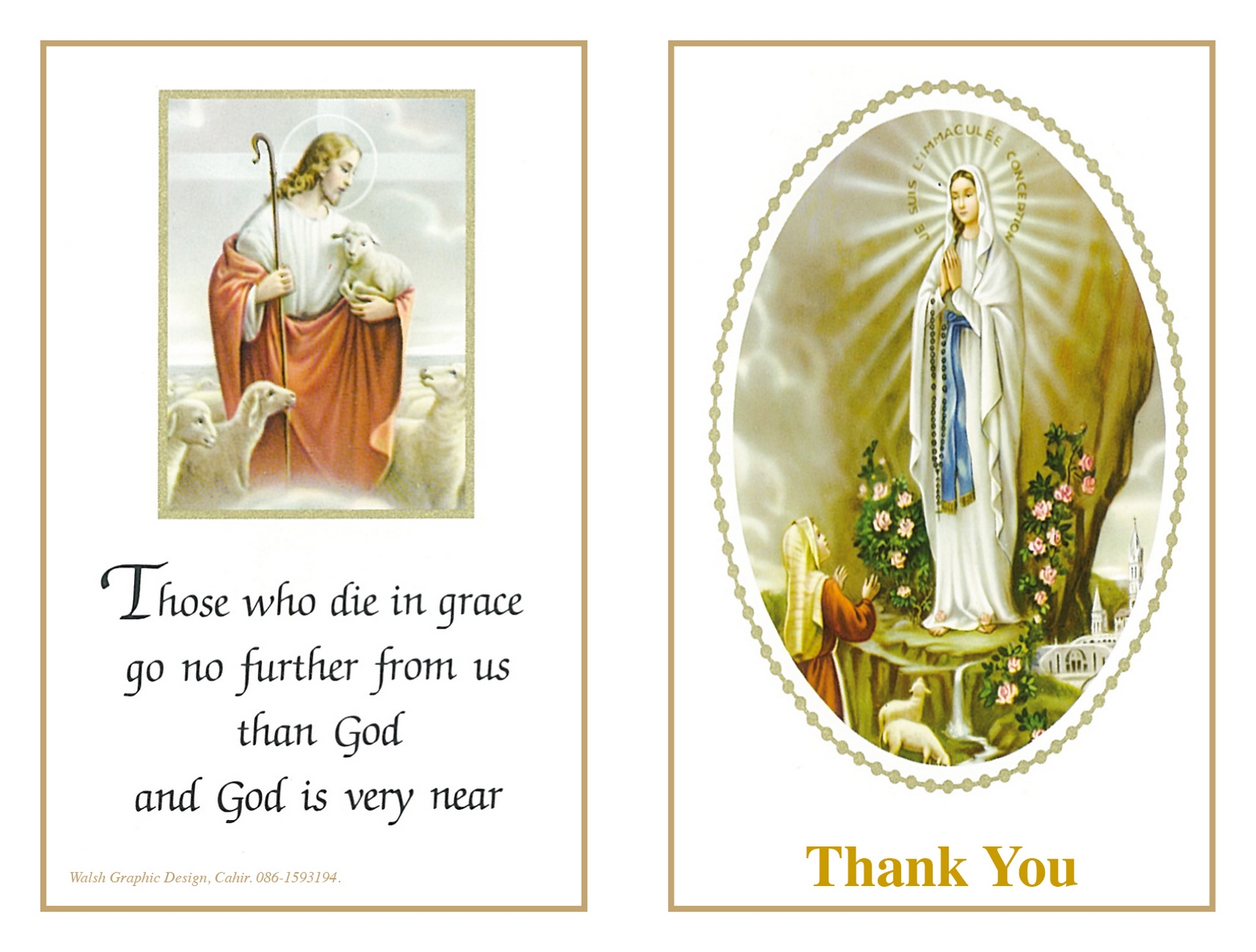 Thank You Cards
I design and print these to your specific requirements, we dont use any templates.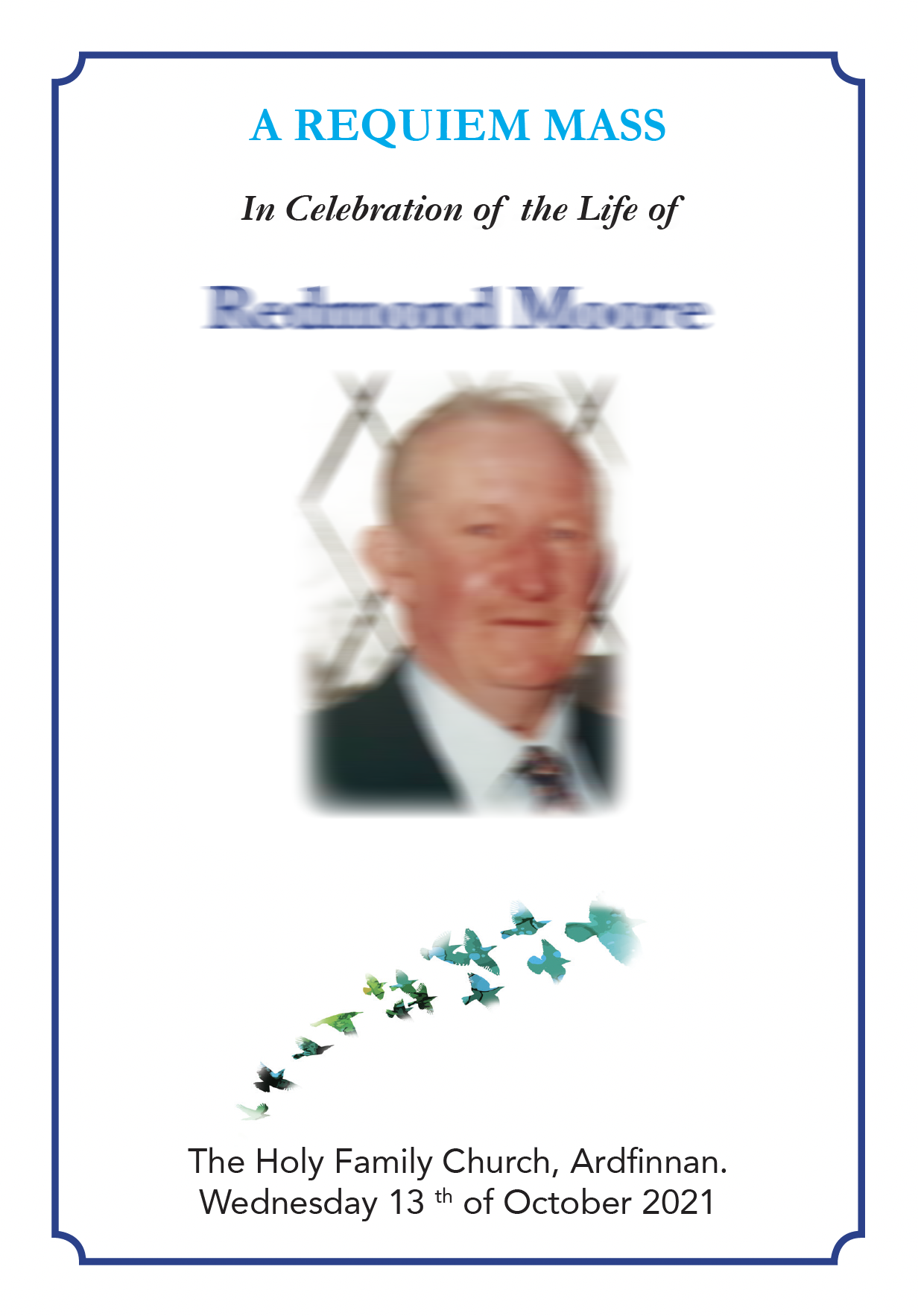 Funeral Mass Booklets
Order of service books are an important part of the funeral ceremony.
Verse 1
When those we love go away, they never really leave us; they are with us now, wherever we are. Those whom we have cherished, live on forever, for love wraps itself around the heart. Although it's difficult now, someday beyond our tears and all the world's wrongs; beyond the clouds and all that we can see and touch, we shall all understand.
Verse 2
Beautiful things in this life are manifold it's true. We count the stars by thousands, the birds and flowers too. The sunsets and dawnings, rare beauties far and near, but all the wide world over, there's just one 'Mother Dear.'
Verse 3
Don't grieve for me, for I'm free, I'm following paths God made for me. I took his hand, I heard him call, then turned and bid farewell to all. I could not stay another day to laugh, to love, to sing, to play, tasks left undone must stay that way. I found my peace…at close of play and if my parting left a void, then fill it with remembered joy. A friendship shared, a laugh, a kiss ah yes, these things I too will miss.
Verse 4
Life is but a stopping place, A pause in what's to be, A resting place along the road, to sweet eternity. Our destination is a place, Far greater than we know. For some the journey's quicker, For some the journey's slow. And when the journey finally ends We'll claim a great reward, And find an everlasting peace, Together with the Lord.
Verse 5
Don't weep at my grave, for I am not there. I've a date with a butterfly to dance in the air. I'll be singing in the sunshine, wild and free, playing tag with the wind, while I'm waiting for thee.
Verse 6
Time cannot steal the treasures that we carry in our hearts. Nor ever dim the shining thoughts our cherished past imparts For the memories of the ones we loved still cast a gentle glow, To grace our days and light our paths, wherever we may go.
Verse 7
God saw you getting tired, and a cure was not to be. So He put his arms around you and whispered, "Come to Me." With tearful eyes we watched you and saw you pass away, and although we loved you dearly, we could not make you stay. A golden heart stopped beating, hard working hands at rest. God broke our hearts to prove to us, He only takes the best.
Verse 8
No farewell words were spoken, no time to say goodbye. You were gone before we knew it, and only God can tell us why. It broke my heart to lose you but you didn't go alone, for part of me went with you, the day God called you home.
Verse 9
There comes a time we all must part but you left too soon and broke our hearts. We know that you are now at peace, our thoughts of you will never cease. Too dearly loved to be forgotten.
Verse 10
I'd like the memory of me to be a happy one. I'd like to leave an afterglow of smiles when life is done. I'd like to leave an echo whispering softly down the ways, of happy times, laughing times and bright and sunny days. I'd like the tears of those who grieve, to dry before the sun of happy memories that I leave behind when day is done.
Verse 11
O gentle and loving Saint Anthony, you whose heart was ever full of human sympathy, whisper my prayer to the ears of the infant Jesus, who loved to linger in your arms. One word from you and my prayer will be granted. Speak that word and the gratitude of my heart will ever be yours.
Verse 12
May there always be work for your hands to do. May your purse always hold a coin or two. May the sun always shine on your window pane. May a rainbow be certain to follow each rain. May the hand of a friend always be near you. May God fill your heart with gladness to cheer you.
Memoriam Cards for Ireland